The Scottish White Water Guidebook is the definitive guide to all the river runs in the country.
It is written & edited by volunteers, published by the SCA and Presda Press and proceeds from the book go towards the Andy Jackson Fund for Access.
3rd Edition – Orders now open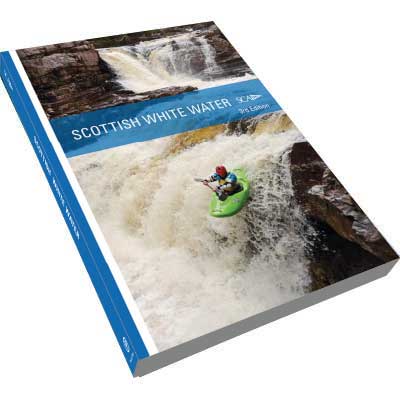 Orders now open. Order direct from the Andy Jackson Fund to maximise revenue for the fund.
River Names and Pronounciation chapter from 3rd edition.
Please send in updates, additions and corrections to scottishwwguide@andyjacksonfund.org.uk.
Guidebook Editors
Bridget Thomas, chair of the Andy Jackson Fund for Access
Richard Bannister
Sub-editors
Jonathan Riddell – Borders, Urban Delights, Advertising
Richard Bannister – North of Great Glen
Alex Lumsden – Burns Country
Brenden Emery – Central
Alisdair Duncan – Glen Spean
Neil Farmer (Photos: Matt Brook, Tom Clare) – Argyll and Bute
Dave Rossetter – Strathspey
Callum Hogg  – Fort William
Matthew Bowen – Tay & Tribs
Calum Peden – Eastern Promise (Up Fae Dundee)
Mark Mulrain – Glen Etive
Kirsten Rendle – Maps
Ron Cameron – Gaelic
Want to help out? Contact your local editor or the group address above