The Scottish White Water Guidebook is the definitive guide to all the river runs in the country.
It is written & edited by volunteers, published by the SCA and Presda Press and proceeds from the book go towards the Andy Jackson Fund for Access.
3rd Edition – Expected Sun 1 July 2018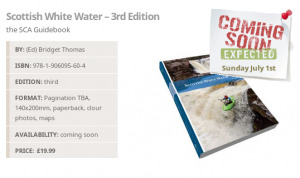 To contact the guidebook e-mail scottishwwguide@andyjacksonfund.org.uk. Updates for the 3rd edition are now closed, we will keep any submissions for any 4th edition.
Guidebook Editor
Bridget Thomas, chair of the Andy Jackson Fund for Access
Sub-editors
Jonathan Riddell – Borders, Urban Delights, Advertising
Richard Bannister – North of Great Glen
Alex Lumsden – Burns Country
Brenden Emery – Central
Alisdair Duncan – Glen Spean
Neil Farmer (Photos: Matt Brook, Tom Clare) – Argyll and Bute
Dave Rossetter – Strathspey
Callum Hogg  – Fort William
Matthew Bowen – Tay & Tribs
Calum Peden – Eastern Promise (Up Fae Dundee)
Mark Mulrain – Glen Etive
Kirsten Rendle – Maps
David Baldwin, Ron Cameron – Gaelic
Want to help out? Contact your local editor or the group address above